Real Matcha was drunk by Samurai


FREE SHIPPING ON ORDERS OVER £25


100% SATISFACTION GUARANTEED


IMPECCABLE CUSTOMER SERVICE
Re-energise your mind body and soul with the power of Japanese Uji Matcha green tea powder.
Matcha has gained much attention in recent years. But not everyone has experienced the brilliant power of authentic Matcha. Its abundance of health benefits have been enjoyed in Japan for over 800 years. First grown and processed by Zen Buddhist monks, who used it to aid meditation, in the Uji region of Japan, Matcha was adopted by Samurai warriors and drunk before battle to increase energy levels and focus. This incredible green tea powder is not produced outside of Japan, and it is not for lattes and muffins! It's for warriors.
Only the very best Matcha comes from the Uji region of Japan and Zen Craft Matcha is made from 100% organic shade grown green tea. You may have heard all the sales jargon about Matcha, but other Matcha teas don't offer our impressive nutritional content:
1384 units of antioxidants

ORAC score of 50,600 (168,500

per 100g un-brewed)
After trying several different Matcha tea brands, I can honestly say that The Brilliant Green Company is the best. The quality just seems far superior than the others we've tried. So I cannot recommend them enough. Why not try it for yourself? Zen Matcha Tea from The Brilliant Green Company

Suzy Turner
www.suzyturner.com
I recently tried Matcha Tea for the first time and it inspired me... So is Match Tea better for you? yes it is!

Karly K
www.beautywithstylee.com

Excellent customer service received. Fast delivery. Communication received was exceptional. Very pleased with overall experience.

Ordering was easy, quick delivery and top quality product. Would definitely recommend and will use again

Claire Hemmingfield
customer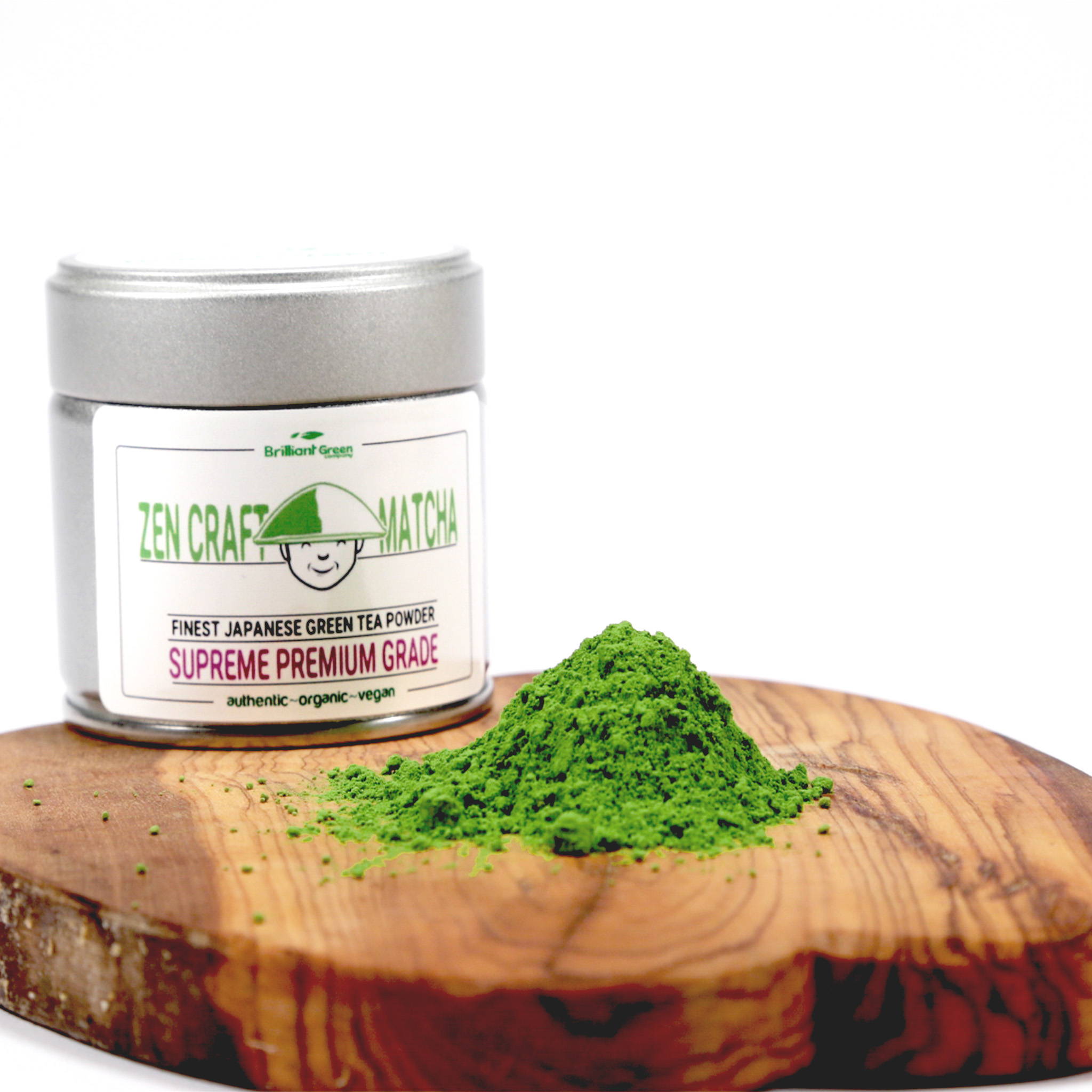 Zen Craft Matcha - Real Japanese Uji Matcha green tea
Zen Craft is a fine Japanese Matcha boasting a vivid green colour, refreshing smooth depth of flavour with higher levels of nutritional contents compared to other grades of Matcha.
Created to honour of the traditions of the Zen Buddhist monks who created Matcha 800 years ago. Uji Matcha hails from the Uji region of Kyoto, Japan, the birthplace of Japanese Matcha. It is revered as the very finest quality Matcha in the world, in terms of taste and quality.
Only Matcha of this quality can provide you with sustained energy boost, increase in alertness and focus, enhance your mood and reduce anxiety, boost your metabolism, detoxify your skin, improve memory, help your body fight against infection, disease and bad cholesterol.

Start drinking the best Matcha green tea and save £8.97 when you buy 3 tins. USE CODE: JUNE2018 at the checkout. OFFE ENDS IN: